By Dave Yochum at Cornelius Today – Cornelius residents Karine and Ted Flinter are opening Vitality Bowls, an açaí bowl cafe, at 19722 One Norman Drive on Friday.
The healthy dining option is a franchise that features the Amazon's antioxidant-rich açaí berry, topped with a variety of superfoods.
There are currently more than 140 Vitality Bowls locations open or in development across the United States. This is the Flinters first location; they plan to open more stores.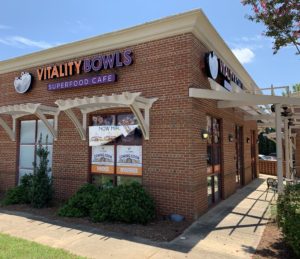 "Ted and I lived overseas for almost 20 years. During our travels we have always enjoyed great food and great friends. We are so excited to continue that tradition and trade stories and share amazing food in our new café," Karine said, explaining that social distancing and safety practices are in place via mobile ordering, takeout, curbside pickup and outdoor seating.
Ted served as a Marine officer and United Nations Peacekeeper before opening his own company in 2007 called Lexington Security Group. It exported defense services and was based in the United Arab Emirates before Ted exited the market in 2019.
Karine worked in radio journalism before joining the United Nations where she worked on Peacekeeping Operations in Kosovo and the Democratic Republic of Congo. Karine worked with Lexington Security Group as director of corporate communications from 2007 – 2019.
Over the last decade, Northern California-based Vitality Bowls has become a bonafide leader in the health food industry. The cafés play into the demand for superfoods, antioxidants and nutrition.
The menu features superfood toppings like graviola, acerola, organic mangosteen, organic camu camu, organic spirulina, organic aronia, organic moringa, organic maca, bee pollen and more.
A Vitality Bowl Superfood Café costs on average between $170,100 and $604,000 to open. Stores range from 750 – 1500 sq. ft. The initial investment includes the franchise fees, the construction and design costs to build-out the café, signage, computer systems, training costs and up to three months of operating capital.